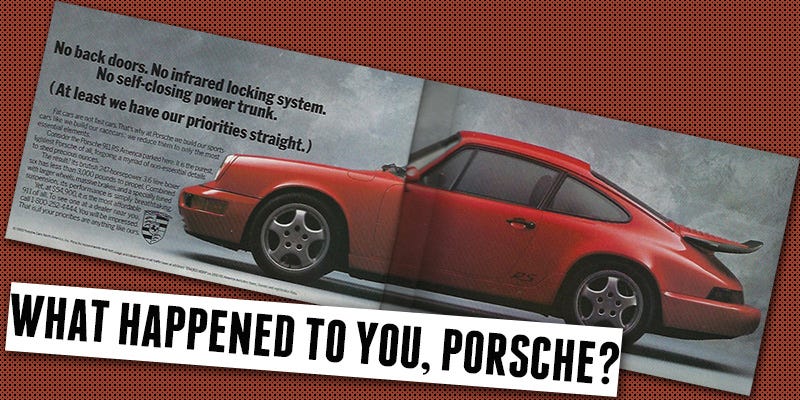 The Porsche we know today is often censured by brand purists for building sports-utility vehicles, four-door sedans and 911s with a device known to engineers as a radiator. Critics, on the other hand, mock the brand for its ridiculous options lists and charging discerning enthusiasts extra (read: a lot) for deleting things like backseats and door handles.
Despite angering their core customer base and despite — well, there's no other way to put this, really — ripping off customers, Porsche isn't exactly pawning off its underpants trying to raise funds to keep its doors open. In fact, Porsche sales have been steadily increasing the last couple of years and the company is rolling around in profits like a pig in slop.
Regardless if the company is doing well, however, it's all sort of ironic once you take a glance at the Clinton-era advertisement featured in today's piece.
In the ad, Porsche proudly boasted to buyers back then that it had its priorities straight and the first statement on the page that grabs your attention is, well, the first one. "No back doors," the ad said. That's because at this point, Porsche recently had quietly aborted the 989 in a Stuttgart alleyway and it had yet to be reincarnated as the Panamera.
"Fat cars are not fast cars," it later continued. "That's why at Porsche we build our sports cars like we build our race cars: we reduce them to only the most essential elements."
Okay, so that wasn't entirely true, I'll admit. In 1993, the year this ad took up half of a full spread in the April issue of Car and Driver, you could go to your local Porsche dealer and spec up a brand new 911, 928 or 968 with power windows, leather seats and other luxury features that still have never, ever been seen on a race car. But whatever, Porsche wasn't charging you eleventy-billion dollars to have them and it certainly wasn't charging you more if you didn't want them.
Case in point, let's look at the car the ad was centered on: The Porsche 911 RS America. While the RS America was a car built for an esteemed North American Porsche aficionado, it could also be considered the stripper version of the now twenty-five year old 964 911. The standard equipment list didn't include power mirrors, cruise control or even power steering and a backseat. According to the ad, this meant that, while it was a hardcore 911, it was also the cheapest one your money could've brought home.
But just because it was cheap and devoid of luxury features didn't mean that Porsche gave you the shaft. Included on the RS America models were body-gripping seats, a sports suspension and upgraded wheels and tires. It even had a Turbo-esque whale-tail spoiler and extra horsepower (ten of them) as part of the deal.
So what does Porsche build today that compares? Uh, nothing actually. There isn't a stripper model in the entire 911 range currently that compares, and even if there was, Porsche would charge you more to buy it. Remember what they did with the Boxster to make the Boxster Spyder?
Priorities, Porsche. How about you relearn a few of them? I'm not saying you have to stop making the Cayenne, the Macan or the Panamera. I get it. While I think the Panamera is the stupidest looking thing since Sarah Silverman's face, I know they help keep the lights on. But if you're going to charge a premium for items that are not premium, how about you just forget about it?
Got it? Good. In the meantime, you can make my seatbelts purple.